OHA Members Only – Not a member? Not a problem. Click the Join/Renew button and join our camp!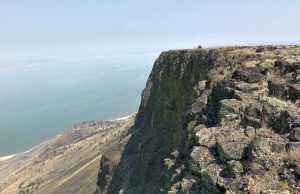 Oregon Hunting Quiz
WHERE IN OREGON WAS THIS PHOTO TAKEN?
This is Oregon's longest fault scarp at 30 miles long. Name it, be drawn from all correct entries, and win a Gerber knife! Submit your guess here. One entry per OHA member.
Entry deadline: Nov. 20, 2018.
Last issue's Winner:
Gene Chouinard, Scappoose
Gene's name was drawn from among the OHA members who recognized the Malheur River.
Nosler Photo Contest
Give us your best shot and you could win a rifle!                   
FINALIST PRIZES                             
Prizes will be awarded in general and youth categories.
 CZ over & under shotgun

 Case (10 boxes) of Nosler Trophy Grade Ammo
$100 discount code good at www.nosler.com    
$50 discount code good at www.nosler.com

One box of any Nosler bullets    
Each finalist will receive an OHA-engraved Coast Knife!
All entrants will receive Nosler caps!
Two finalists in each category will be chosen and published in each issue of Oregon Hunter, beginning with the March-April issue and ending with the November-December issue. From the 10 finalists in each category, five finalist prize winners will be chosen. These will be announced in the January-February issue of Oregon Hunter. Photos received after the entry deadline will be judged for the next issue.
PHOTO CATEGORIES
GENERAL: Any aspect of hunting, including but not limited to preparation, camping, hunting situations, game and packing.
YOUTH: Same as above, except photos must feature a person who was 18 or younger at the time the photo was taken.
RULES (Failure to follow will disqualify)
Entries must be hunting photos.
If photos feature game, it must be legally taken.
Entrants must be OHA members.
Professional photographers are not eligible.
Entrants may enter no more than three photos in each of the two categories per year.
Entrants may win no more than one finalist prize.
Photos entered in any previous Nosler Photo Contest may not be reentered.
Entries will be judged by the photo submitted and not by its reproduction in Oregon Hunter.
This is a photographic competition and photos will be judged on the usual photographic criteria of imagination, lighting, com- position, exposure, focus and attractiveness.
Entrants grant OHA and Nosler, Inc., rights to use photos for editorial or promotional purposes.
Employees of Nosler, Inc., OHA state officers, state board members and employees are ineligible.
Winners of a first-place prize in any of the last three years are ineligible to win the first-place prize in this year's contest.
Prizes of equal or greater value may be substituted.
Photos must be high-resolution.
If required for a youth's hunt, orange must be visible.