The latest on Measure 114 Litigation
The litigation landscape for Measure 114 is continually shifting with five different suits brought against the gun control measure. 
The first to file was Oregon Firearms Federation (OFF), who put forth their lawsuit on Nov. 20 along with the Sherman County Sheriff and the owners of Coat of Arms Firearms. The initial court date was set for Dec. 2, but the judge did not rule on the requested injunction until Dec. 6. At that time, the federal judge ruled a 30-day hold on the permit-to-purchase requirement, but allowed the other components of the measure, namely the magazine ban, to take effect on the proposed effective date of Dec. 8. 
A mere 3 hours later, a judge in Harney County granted a temporary restraining order against all provisions of Measure 114 in a ruling on a lawsuit brought by Gun Owners of America. This order put a hold on the entirety of Measure 114 until a Dec. 13 hearing to further review the suit's request for a preliminary injunction. On Dec. 7, lawyers for the state requested the Oregon Supreme Court throw out the Harney County ruling and allow the measure to take effect. Surprisingly, the Oregon Supreme Court declined to intervene in the matter. 
In the hearing on Dec. 13, the Harney County judge ruled to maintain the temporary restraining order on 114's permit-to-purchase system, noting that it would remain in place until the state notifies him that it is prepared to begin the new system, at which time he will schedule a preliminary injunction hearing to determine a ruling. He later issued a preliminary injunction against the "large capacity" magazine ban portion of the measure. This injunction will be in place until a full hearing can be held on the matter. 
The different rulings on different aspects of the measure are due to a severability clause in the measure that means if one part of the measure is deemed unconstitutional, it does not throw the whole thing out. Each portion must be weighed separately and may receive different legal outcomes. 
The next hearing for the Gun Owners of America lawsuit was scheduled for Dec. 23 to focus on the "loophole" in which a gun dealer can legally transfer a firearm if the purchaser has been waiting longer than three days for a background check to be completed. 
As several other lawsuits wait for their hearing dates to be scheduled, Measure 114's current status remains on hold. With the temporary restraining order on the permit-to-purchase portion and the preliminary injunction granted regarding "large capacity" magazines, the measure's provisions remain stalled.
Pending lawsuits include a suit brought by the National Shooting Sports Federation and Oregon State Shooting Association, for which OHA and several other sportsmen's organizations will be providing amicus briefs, and two additional lawsuits brought by Firearms Coalition Policy, one with Sportsman's Warehouse and another with Grayguns, Inc. and G4 Archery. 
While the fight against Measure 114 may be evolving daily due to the litigation efforts, OHA is working continuously on both the litigation and legislation fronts to block overreaching gun control measures and promote firearm safety and responsible firearm ownership. 
Donate to OHA's Victory Fund at www.oregonhunters.org/donate 
Membership Update re: 114 litigation and implementation
December 3
With the pending effective date of December 8, Measure 114 looms ahead of sportsmen and women. As of today, there are four lawsuits that have been filed and at least one other pending. Here's a rundown on what we know so far:
OFF (Oregon Firearms Federation) filed the first lawsuit against Measure 114 last month. On Friday, December 2, the initial court hearing was held. The judge did not make a ruling regarding the injunction request but rather stated that she would decide her ruling by Tuesday, December 7, that latest possible date before the effective date of December 8. OFF News Release 
National Shooting Sports Federation (NSSF) and Oregon Shooting Sports Association (OSSA), both members of the Sportsmen Opposed to Gun Violence coalition, joined with the National Rifle Association (NRA) to file their lawsuit on December 1. They are also seeking an injunction against the measure but a court date has not been assigned at this time. NSSF/OSSA/NRA News Release
The Second Amendment Foundation has filed two suits against 114. Partnering with Firearms Policy Coalition, G4 Archery, and Grayguns, Inc., the first suit was filed on November 30.  SAF First Lawsuit News Release  The second suit, filed on December 2, includes Sportsmen's Warehouse. SAF Second Lawsuit News Release
The question of what happens to the potential firearms purchasers still waiting for a background check after 11:59pm on December 7 has received some clarification from Oregon State Police with their post from Friday, December 2:
OHA will continue to keep you posted as the next week brings what is sure to be many new developments regarding 114.
OHA's Message to Our Membership Regarding Measure 114's Passing
November 9, 2022
While there are still more votes to be counted, Measure 114 is currently passing by a margin of about 30,000 votes; a mere 2% difference between the yes and no votes.  Obviously, this is not the outcome we were hoping for but it is not the end of our fight against this measure, it simply moves our fight into a different arena.
OHA, along with the coalition of sportsmen's groups behind the Sportsmen Opposed To Gun Violence PAC, is continuing to work against the measure and is currently formulating next steps as far as near term solutions, such as litigation, and long term solutions, such as legislation. It will take a few days for those plans to be fully formulated and put in to place.
While it cannot be guaranteed, we are hopeful that any litigation filed will also be granted an injunction against the measure which would keep its regulations from taking effect while the litigation makes its way through the court system. Therefore, we are advising all OHA chapters to continue on with 2023 banquet planning and fundraising options as we have in the past.
We will not be cowed by this measure's razor-thin passage, on the contrary we will be moving the fight forward by standing with our sportsmen and recreational shooter allies. We want our chapter leadership, as well as our full membership, to know that OHA is committed to fighting this issue.
If you have questions, please feel free to reach out to me at amy@oregonhunters.org. I ask your patience as plans are developed over the coming days, and perhaps weeks, as we work with our partners to formulate and put in place our strategies. We will all be working to keep you informed of the latest developments and any ways that OHA members can participate in the process.
Thank you for continuing to support OHA as we tackle this issue!
Sportsmen band together to stop Measure 114
State and national sportsmen's groups have banded together to oppose Measure 114 and the effects it would have on Oregon's hunting community. The Sportsmen Opposed to Gun Violence PAC has been formed to fund messaging efforts to let Oregonians know the detrimental effects of 114 on legal firearms owners. For more information go to www.sportsmenno114.org and check out their Facebook page.
OHA opposes Measure 114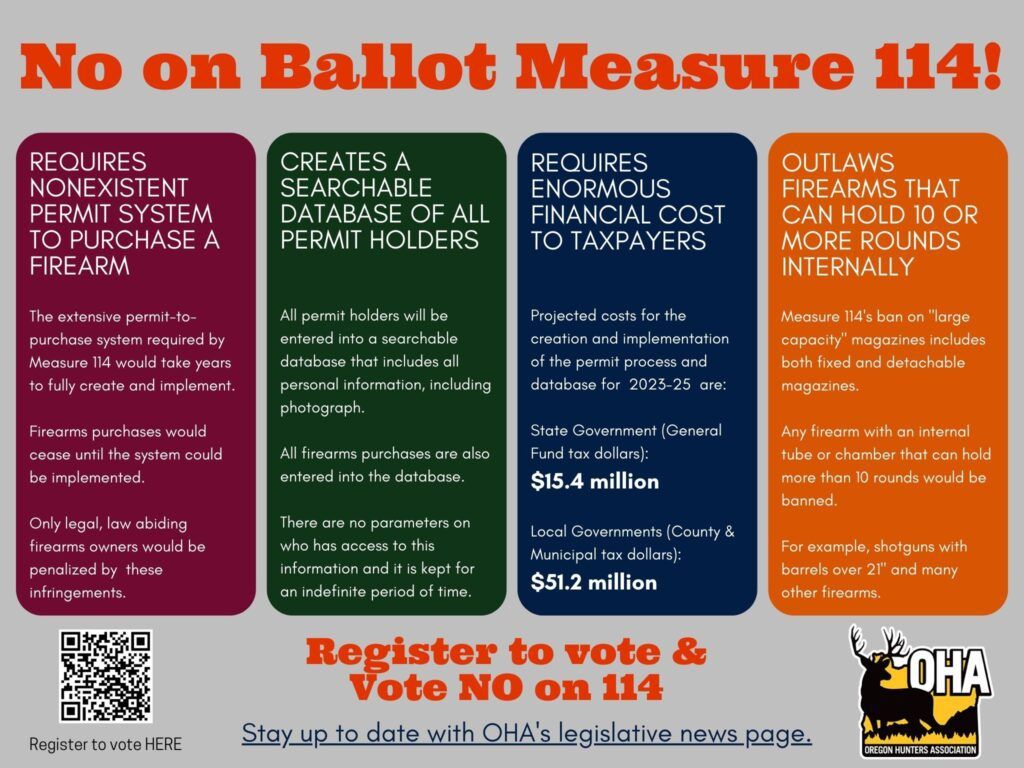 To find out more about the legislative process, bills, and legislators go to the Oregon State Legislature page.