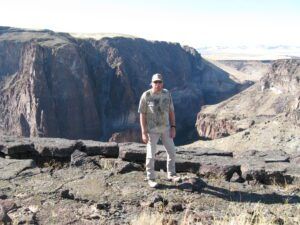 By Mike Totey, Conservation Director
OHA is a member of the Owyhee Sportsmen Coalition that has been engaged with Senator Ron Wyden and his staff to get legislation introduced to help protect and conserve the Owyhee region in Malheur County.
The bill (S. 1890) was introduced in June in the Senate Energy and Natural Resources Committee. It includes over 1 million acres of wilderness area designations that will come from the "wilderness study areas" that have been part of the Owyhee landscape and management for many years.
An initial hearing was held on July 12, and now the bill moves to a "mark up" phase. This phase will allow a negotiation of different terms or edits to the bill. The coalition is pressing for flexibility within the designated wilderness areas to allow for management of invasive species and wildfire recovery efforts.
Most roads that are currently "driveable" will stay that way.
Known for its picturesque landscape, with thousand-foot sheer cliffs and volcanic tuff formations, Oregon's Owyhee canyon country is home to chukar, native redband rainbow trout, mule deer, elk, pronghorn antelope and California bighorn sheep. The Owyhee region is also recognized by the U.S. Fish and Wildlife Service as one of the last remaining strongholds of intact sagebrush steppe habitat which supports Oregon's largest population of greater sage-grouse.
Those who know the Owyhee country are familiar with this stunning landscape, vast canyon areas, solitude, and wildlife. It's a special place that provides unique hunting opportunities.
With energy development exploding across Oregon's landscape and displacing wildlife and hunters, it's more important than ever to keep wild places wild.
For more, visit https://www.congress.gov/bill/118th-congress/senate-bill/1890?s=1&r=3