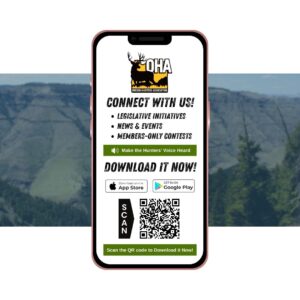 By Tyler Dungannon & Tristan Henry
OHA has developed a mobile app designed to keep Oregon Hunters connected.
Stay updated on our latest legislative initiatives and ODFW Commission issues.
Never miss an event or action alert again with our integrated calendar and RSVP features.
Win amazing prizes with our members-only contests and giveaways directly from the app.
Get the latest OHA news, and receive updates on new ODFW regulations and resources.
Downloading our app is as simple clicking the links below, which will take you directly to your respective app store for installation. You can also search for Oregon Hunters Association in the App Store or Google Play Store.
Join us in the digital revolution of hunting with the Oregon Hunter's app. Together, let's stay connected and informed as we protect Oregon's wildlife, habitat, and hunting heritage.