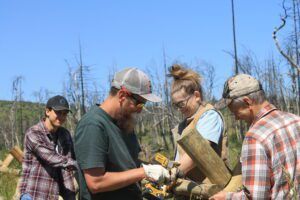 By Tyler Dungannon, Conservation Coordinator
In response to a recent wildfire that burned aspen stands on White River Wildlife Area, OHA and ODFW installed nearly 4,000 feet of wildlife-friendly buck-and-pole fencing June 10-11 to protect one of only two aspen stands on the wildlife area.
Throughout the west, there is concern about the loss of aspen habitats and a reduction in aspen regeneration following disturbance. In some areas in Oregon, 80 percent of aspen woodlands have been lost since the 1800s.
Aspen provides fawning and calving habitat, hiding cover and forage for mule deer and elk, but heavy livestock use can prevent overstory recruitment, allow invasive plant species to establish, and degrade understories.
The OHA Hoodview Chapter covered all meals for volunteers and the great food made the camping experience one to write home about. One lucky OHA volunteer walked away with an $1,800 Howa Carbon Fiber Rifle (donated by Legacy Sports International), and every volunteer received a great prize.
Prizes totaled $3,000, thanks to our project sponsors, Legacy Sports International, Benchmade Knife Company, Black Rifle Coffee Company, Work Sharp, Coast and Napier Outdoors.
Stay tuned for future regional habitat projects led by State OHA and OHA chapters.