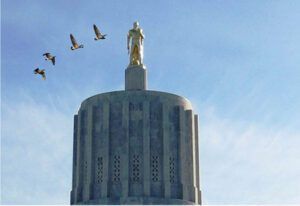 By Amy Patrick, OHA Policy Director
Measure 114, the gun control bill on the Oregon ballot, passed in the November election by a margin of only 1.5 percent. With this result, OHA will transition our fight to the arenas of litigation and legislation. While OHA will not be the lead organization on the lawsuits being filed, we are working closely with our sportsmen's coalition partners and supporting those that are seeking litigation through financial contributions and strategic use of our legislative efforts.
While it cannot be guaranteed, we are hopeful that any litigation filed will also be granted an injunction against the measure, which would keep its regulations from taking effect while the litigation makes its way through the court system.
Therefore, we are advising OHA chapters to continue with 2023 banquet planning and fundraising options as we have in the past.
Democrats retained their 36-year grip on the Governor's office. The incoming administration will appoint new staff in the Governor's Natural Resource Office, as well as having the potential to make changes to agency leadership and appointments to boards and commissions. The new governor will also have an additional month to approve their recommended budget to be brought before the legislative body in January.
Makeup of Oregon's House and Senate changed slightly as a result of the election. Previously, Democrats held a super majority with 37 seats in the House and 18 in the Senate. They now hold 35 House seats and 17 Senate seats. While not a large change, it affects how specific bills can progress through chamber votes.
The redistricting of Oregon's House and Senate districts, which takes effect in 2023, has contributed to more legislative turnover. The 2023 legislative session will see 23 new representatives and senators joining the legislature. OHA will work to develop relationships with all the new legislators while maintaining those we have with existing lawmakers.