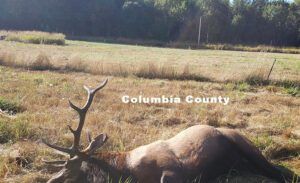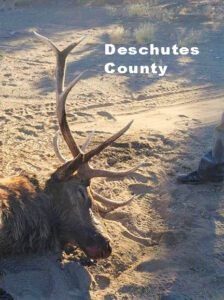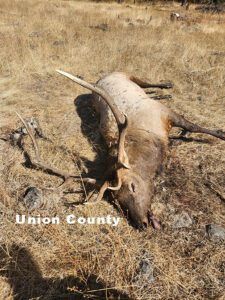 OSP seeks tips in three elk poaching cases across the state, and the Oregon Hunters Association is offering rewards for information leading to a citation in each case. OHA is offering its standard $500 elk reward from its Turn in Poachers (TIP) reward fund, and the OHA Bend Chapter is offering an additional $1,000 in a case in Deschutes County. Informants can remain anonymous and still collect a reward; call the TIP line at 1-800-452-7888, *OSP (*677), or email at TIP@osp.oregon.gov
Columbia County – A large bull elk was killed with a rifle on private property off Stoney Point Road in Vernonia and left to waste.  Please reference case number SP22256433.
Deschutes County – Two bull elk were killed by trespassers on private property near Tumalo early morning on Sept. 26, the day after bow season ended. Two subjects, a male and female, were observed leaving the property where they did not have permission to hunt and were seen packing the head and antlers of a bull elk to a vehicle – thought to be a red pickup – parked at the intersection of HWY 20W and Innes Market Rd. A second dead bull elk was found in an agricultural pivot on the same property. Both animals appeared to be killed with archery equipment. Please reference case number SP2225969.
Union County – A branch antlered bull elk was poached in the Wenaha Unit north of Elgin on the evening Sept. 30, one day prior to the opening of the controlled rifle buck deer season.  The bull was shot on private timber lands off Kingsbury Lane near Darr Road.  No part of the elk was removed, and the bull was left to waste. Please reference case number SP22-265831
OHA pays typically about $20,000 annually to informants in fish and wildlife violation cases through our Turn In Poachers (TIP) Reward Fund. OHA has also helped pass laws for tougher penalties for poaching. If you support our efforts, please join and support OHA at www.oregonhunters.org