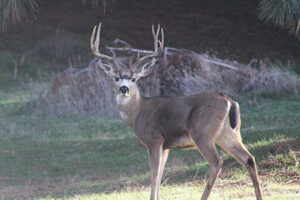 OHA conservation staff recently attended and co-sponsored the Black-tailed Deer Summit at Leupold & Stevens headquarters in Beaverton, where the focus was Columbian and Sitka black-tailed deer status and ongoing research from California to Alaska.
OHA seized this opportunity to expand our partnerships with other organizations, hear about challenges in other states with Columbian black-tailed deer, and stay up to date with the latest ongoing research conducted by ODFW.
The ODFW West Region Wildlife Research Supervisor, Dr. DeWayne Jackson, and his research team are in the process of attaining black-tailed deer density estimates in western Oregon. They are using scat detection dogs and collecting fecal data to estimate densities across wildlife management units. OHA staff were encouraged by this work, and we look forward to working with ODFW to improve our knowledge of deer populations west of the Cascades.
Leupold & Stevens is an OHA State Title Sponsor, and OHA is excited about our collaboration for the benefit of black-tailed deer. Mule Deer Foundation organized the event, and agencies in attendance included ODFW, Washington Department of Fish and Wildlife, Alaska Department of Fish and Game, California Fish and Game, the Bureau of Land Management, and the US Forest Service.