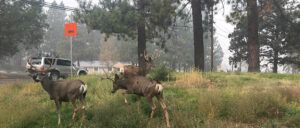 Wildlife Crossing Hotspots Identified as Bill Passes Out of Key Committee
Building wildlife crossing solutions would save over $50 million annually
Contacts:
Tyler Dungannon, td@oregonhunters.org, (541) 778-1976
Michael O'Casey, mocasey@trcp.org, (541)-668-2316
A coalition of hunters, anglers, Tribal representatives, and conservation groups released a priority list of wildlife crossing project needs across the state where wildlife-vehicle collisions create hazards for drivers and animals. The report comes as the House Interim Committee On Environment and Natural Resources recently passed the Wildlife Crossings Investment Act (HB 4130-01) that will invest $7 million toward creating wildlife crossings at wildlife-vehicle collision hotspots around the state. The legislation now awaits a vote in the Ways and Means Committee.
View the report here.
"Our mule deer herds have declined 30-40% over the last decade or less," said Ken McCall, Northwest Director for the Oregon Hunters Association. "While the reality of human development, habitat loss, and poaching negatively impacts deer populations, Oregonians can have a proven and measurable impact in reducing wildlife-vehicle collisions by installing wildlife safe passage crossings on our highways."
Wildlife-vehicle collisions are a significant issue in Oregon, costing people lives and money.
Between a five-year span through 2017 and 2021, the Oregon Department of Transportation recorded 30,951 wildlife-vehicle collisions, resulting in damage, injury, and fatalities to motorists and significantly impacting the state's iconic wildlife, such as mule deer, elk, and pronghorn. In 2021, the average cost of a vehicle collision with a mule deer—the most common collision type—costs $9,086 and collisions with elk cost $24,006, totaling $56.9 million in 2020 alone. This includes vehicle damage, medical expenses, and lost hunting value.
Scott Peckham, the Big Game Ecologist from the Confederated Tribes of the Umatilla, said, "Interstate 84 runs through the middle of the homelands of the Cayuse, Umatilla, and Walla Walla Tribes and creates a major movement barrier for many culturally important wildlife species. This bill would provide an opportunity to reduce the impacts from this and other barriers through repairing centuries old migratory routes and restoring habitat connectivity."
The Wildlife Crossings Investment Act enjoys bipartisan support and was introduced by Rep. Ken Helm (D-34, Washington County) and has 33 sponsors so far. The bill would invest at least $7 million dollars in targeted projects that will reduce wildlife-vehicle collisions to make our roads safer for people and wildlife. These dollars can also be used for federal grant match requirements, allowing Oregon taxpayers' dollars to be leveraged for a greater return on this initial investment. The Infrastructure Investment and Jobs Act of 2021 provides $350 million over five years in the form of competitive grants to states, Tribes, and municipalities to create wildlife crossing solutions, and the monies from HB 4130-01 could be harnessed in this way.
Michael O'Casey, the Pacific Northwest Field Manager with the Theodore Roosevelt Conservation Partnership added, "The TRCP represents more than 116,000 members across the nation. The sportsmen and women that make up our membership overwhelmingly support our work to reduce barriers to migration by prioritizing funding for wildlife crossings. We applaud the work of Chair Marsh, Rep. Helm, Rep. Brock Smith, and other members of this committee for their support on this bill."
To date, Oregon has only five wildlife crossings, considerably fewer than other western states – Colorado has 69, Utah and California both enjoy 50, and Nevada has 23 for large mammals alone. Yet, a recent State Farm insurance analysis found that Oregon has the highest likelihood of wildlife crashes among west coast states.
About a dozen wildlife-vehicle hotspots across the state have been identified for wildlife crossing projects and are at some stage of development, including along highway 20 near Juntura, on highway 20 near Sisters, I-5 between Ashland and the OR-CA border, on I-84 near Meacham, and in several places on highway 97 in Central Oregon. Funding needs are estimated to be between $22 and $36 million to address these known hotspots.
"The OAT priority list is a well thought out and analyzed list providing a great look at the on-the-ground opportunities to improve wildlife movement that HB 4130-01 could help bring to fruition to put Oregon on a path toward leadership in wildlife crossing infrastructure," added Zach Schwartz the Oregon Program Manager for the Wildlands Network.
Wildlife crossings have proven that they save lives and money. For example, the Lava Butte underpass near Bend reduced wildlife-vehicle collisions by more than 85%, and Utah saw a 98.5% reduction in deer mortalities when it built two animal underpasses on a stretch of highway that blocked traditional migratory routes. Because so many Oregonians are impacted by wildlife-vehicle collisions, there is broad bipartisan support for wildlife crossings from voters across Oregon. In fact, a 2020  poll commissioned by The Pew Charitable Trusts and conducted by the firm GBAO found that 86% of Oregonians favor constructing more wildlife crossings on roads and highways and 75% of voters from across the political and geographic spectrum support increased funding to build more wildlife crossings on roads and highways.
Diverse interests including hunting and fishing organizations, wildlife groups, and Tribal representatives are hopeful that the legislature passes HB 4130-01 into law this session and begins the necessary steps toward making Oregon's roads safer for people and wildlife.
View the report here.
###
The Oregon Hunters Association is a statewide organization with more than 10,000 members. Since 1983, OHA has been protecting Oregon's wildlife, habitat, and hunting heritage.