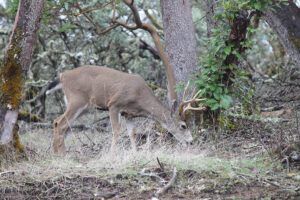 By Tyler Dungannon, Conservation Coordinator
State OHA, Hoodview, and Mid-Columbia Chapters are leading an effort to make Hoodview's annual White River Wildlife Area habitat project even bigger this year on June 10-11. All chapters and individuals are welcome! OHA is hunting for 80-100 volunteers to build buck-and-pole fencing to protect aspen stands, remove invasive weeds, and fell and buck trees to increase deer and elk forage.
Volunteers will be entered for a chance to win prizes from Sig Sauer, Benchmade, Work Sharp, Napier Outdoors and a Howa Carbon Fiber 6.5 PRC with Nikko Stirling Optics donated by Legacy Sports International. Camping is available on the White River Wildlife Area, and food will be provided!
For more information, contact Tyler Dungannon at td@oregonhunters.org
To register as a volunteer for this project, visit https://oregonhunters.org/regional-projects/white-river-black-tail-regional-project/