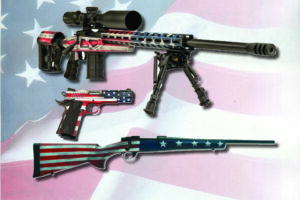 By Amy Patrick, OHA Policy Director
OHA is preparing to fight Ballot Measure 114, formerly called IP17, when it arrives on the November ballot. The OHA State Board approved the purchase of two arguments of opposition for the voters pamphlet, funded by OHA's member-supported Victory Fund (you can donate at www.oregonhunters.org/donate).
At the Chapter Leadership Summit in early August, OHA staff brought forward the opportunity for OHA chapters to support the purchase of an additional argument at the cost of $1,200. The response was overwhelming. Several chapters pledged $1,200 on the spot, with numerous others confirming their pledge over the next two weeks. In total, 12 chapters had pledged funds in support of the fight against Measure 114 as of Aug. 20 (Tualatin Valley, Columbia County, Umpqua, Ochoco, Capitol, Yamhill County, Josephine, Bend, Redmond, Tioga, Hoodview).
In addition to the voter pamphlet arguments, OHA is preparing additional outreach items, such as rack cards and counter displays for chapters to distribute throughout their local areas. Staff is also participating in several community outreach opportunities to educate the public beyond the hunting and shooting communities.
Measure 114 would create a new permit-to-purchase procedure administered by a police chief or county sheriff with a background check that includes fingerprinting and photographing of purchaser. The purchaser is not eligible for a permit unless proof is shown of an approved firearms training course that includes a live fire component. The permit-to-purchase, if approved, is valid for 5 years.
The measure would place an underfunded burden on local law enforcement agencies, which would be under no obligation to provide certification or issue permits. It also creates a searchable database to maintain the information of all permittees, including those with expired permits, meaning once in the system, a permit-holder is always in the system. All firearms purchased by a permit-holder will be recorded in the database and the information is allowed to be stored for an indefinite period of time.
"Large capacity" magazines, defined as holding more than 10 rounds, would also be banned, and that is not limited to detachable magazines, which means numerous firearms – most notably shotguns with at least a 21-inch barrel – would be outlawed because they can hold more than 10 mini-rounds in the tube.
Clearly, these constraints against lawful firearm owners are not an answer to the criminal aspect of gun violence. We already have in place mandatory background checks that are currently taking an excessive amount of time in some cases due to backlog.
OHA is committed to fighting Measure 114 and we are working closely with our counterparts within the Oregon Sportsmen's Conservation Partnership to coordinate and amplify our efforts.