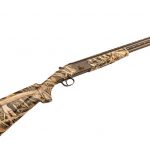 Good things come to those who wait! Albert Barrows of Malin wins an OHA-engraved Legacy Pointer O/U 12 gauge w/ Cerakoteas the last gun of 53 to be awarded in OHA's 2020 Gun Calendar Raffle!
No calendar raffle is being held for the coming year.
Our Wall of Guns is now sold out, too! Thanks so much for your support and good luck in the Jan. 7 drawing!
2020 Gun Calendar Raffle Winners so far:
Jan 1 – Kimber Custom II .45 ACP, Christina Houtz, Springfield
8-Jan – Nosler Liberty M48 .300 WSM, Robert Browning, Baker City
15-Jan – Beretta A300 Max 5 Camo 12 gauge, Quinton Graves, Klamath Falls
22-Jan – Henry Big Boy .44 Rem. Mag., Steve Pringle, Gaston
29-Jan – Savage TH-16 SS Syn. .270 & 3-9×40 Nikon scope, Troy Hickok, Glide
5-Feb – Tikka T-3X Hunter Blued 7mm Rem. Mag, Luther Yam, Hillsboro
12-Feb – Benelli Nova camo 12 gauge, Ethel Reeves, Hood River
19-Feb – Ruger 10-22 Stainless black, Joe Morse, Unity
26-Feb – Ruger American 6.5 Creedmoor camo w/bronze Cerakote, James Slaughter, Bend
4-Mar – Howa lightweight gray Cerakote KUIU Vias .223, C. J. Trotta, Tiller
11-Mar – Springfield XD Model 2 subcompact .45 ACP Flat Dark Earth, Dennis Hungerford, Bend
18-Mar – Remington ADL SS synthetic black .30-06 & 3-9×40 scope, Curt Allen, Astoria
25-Mar – Savage 93R17 BTVS .17 HMR, Tom Luttrell, Molalla
1-Apr – Black Flag Citadel 1911 in .45 ACP, Aaron Burke, Sweet Home
8-Apr – Browning X-Bolt Hells Canyon Speed .28 Nosler, Bryce Denfeld, Redmond
15-Apr – Benelli Nova camo 12 gauge, Jonathan Anderson, Warrenton
22-Apr – Kimber Hunter SS 6.5 Creedmoor, William Abbott, Clatskanie
29-Apr – Savage TH-16 SS Syn. .308 & 3-9×40 Nikon scope, Kari Phillips, Gresham
6-May – Stoeger 3500 Camo Max-4 3-1/2 Mag, Derrek Gwyn, Eugene
3-May – TC Compass .22-250, Jeff Senger, Portland
20-May – Walther PK380 SS and Teal, Christopher Yee, Eugene
27-May – Remington ADL SS synthetic black .308 & 3-9×40 scope, George Somics II, Woodland
3-Jun – Weatherby Deluxe 12 gauge, Garrett Weaver, Roseburg
10-Jun – Howa lightweight gray Cerakote KUIU Verde .223, Jenice Lawson, Rickreall
17-Jun– Bergara B-14 Hunter 6.5 Creedmoor, Becky Roberts, Salem
24-Jun – Springfield XD Model 2 subcompact .45 ACP, Jerry Walker, Corvallis
1-Jul – Flag Citadel 1911 in .45 ACP, David Tetrick, Portland
8-Jul – Browning X-Bolt Hells Canyon .26 Nosler, Dr. Melinda Judd, McMinnville
15-Jul – TC Compass 7mm-08, Paul Donheffner, Salem
22-Jul – Stoeger 3500 Camo Max-4 3-1/2 Mag, William Priaulx, Junction City
29-Jul – Savage THXP SS .260 Rem. W/3-9×40 Nikon, Tom Bosworth, Medford
5-Aug – Legacy Pointer 12 gauge O/U, John Hall, Drain
12-Aug – Remington ADL SS synthetic black .270 & 3-9×40 scope, Madeline Kuenzi, Turner
19-Aug – Bergara B-14 Hunter 7mm Rem. Mag, Terry Shipman, Myrtle Creek
26-Aug – TC Compass .300 Win. Mag, Rick Haflich, Salem
2-Sep – Tikka T-3 Lite SS 6.5 Creedmoor, Alan Bozarth, Rainier
9-Sep – Benelli Nova camo 12 ga., Steven Dark, Stayton
16-Sep – Savage TH-16 SS Syn. 7mm Rem Mag & 3-9×40 Nikon scope, Chris Mather, Astoria
23-Sep – Howa lightweight gray Cerakote KUIU Vias .243, Jon Schnebly, Klamath Falls
30-Sep – Springfield XD Model 2 subcompact .45 ACP Flat Dark Earth, Arne Knutsen, Dallas
7-Oct – Beretta A300 Max 5 Camo  12 gauge, Elizabeth Gonzales, Hillsboro
14-Oct – Remington LR SPS SS 7mm Rem., Al Rich, Gresham
21-Oct – Weatherby Series 2 .25-06, Brent Tannock, Hillsboro
28-Oct – Savage 93R17 BTVS .17 HMR, Brandy Bauman, Gates
4-Nov – Howa lightweight gray Cerakote KUIU Verde .22-250, Nathan Hobson, Milwaukie
11-Nov – TC Compass .270 Win., Raymond McLaughlin, Philomath
8-Nov – Springfield XD Model 2 subcompact .45 ACP Flat Dark Earth, Beau Hudspeth, St. Helens
25-Nov – Legacy Pointer 12 gauge O/U, Darren Dutcher, Redmond
2-Dec – Savage TH-16 SS Syn. .300Win. Mag & 3-9×40 Nikon scope, Lane Osborn, Corvallis
9-Dec – Walther PK380 SS & Teal, Molly Jimenez, Albany
6-Dec – Ruger 10-22 Stainless black, Kyle Miller, Oakland
23-Dec– Howa lightweight gray Cerakote KUIU Vias .204 Ruger, Travis Kent, Tillamook
30-Dec– OHA-engraved Legacy Pointer O/U 12 gauge w/ Cerakote, Albert Barrows, Malin