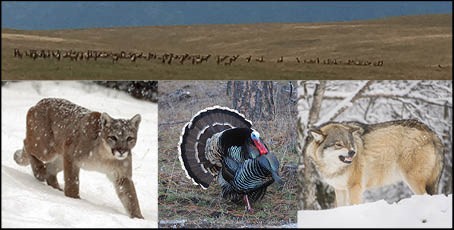 By Jim Akenson, Conservation Director
Cougar Plan:
The new Cougar Plan will be up for approval at the October Commission Meeting in Prineville.  OHA will be endorsing this plan as it continues, and expands, management actions and hunting opportunities for this species.
Wolf Plan:
The Wolf Plan is the most controversial of the three plans under "review and revision" but it too should be getting an adoption vote by the Commission later this fall, likely in December at the Salem meeting.  OHA generally endorses this plan but we are still pushing to see clearer language on the future of hunting as a tool in wolf population management.  We feel this is a key part of normalizing this species – to be more similar to cougars and black bears in this state.
Turkey Plan:
As Thanksgiving approaches, everyone should have a turkey plan. OHA has met with ODFW staff regarding the Turkey Management Plan.  We have encouraged language which reveres this species and does not just emphasize damage control, but instead promote this management concept, with: "The goal of Oregon's turkey harvest management is to offer the greatest recreational opportunity while ensuring viable huntable populations into the future."
Big Game Regulation Setting:
In September the Oregon Fish & Wildlife Commission approved the hunting regulations for the 2018 calendar year.  OHA has reviewed and commented on these regulations which closely mirror the previous 2-year big game rules.  There is still the possibility of emergency changes if we have another hard winter like this past one.
Another regulation topic, still pending, is the simplification of Oregon's hunting regulations.  This will likely be implemented for 2019.  OHA will actively participate in this process to ensure that both our hunting heritage, and opportunities, are protected into the foreseeable future.
Ochoco Summit Trail System:
OHA has engaged in a legal complaint on this trail, strictly based on elk disturbance and the proposed plan not considering the additional potential for moving elk from public to private land.
Chesnimnus Elk Redistribution:
This program is in the second year of active monitoring to see how elk respond to hunting and other human activities.  Both private and public lands have organized groups to work on solutions, including; recommendations to adjust hunting regulations, increase hunter access onto private lands, and create a security corridor on public land to better hold elk.