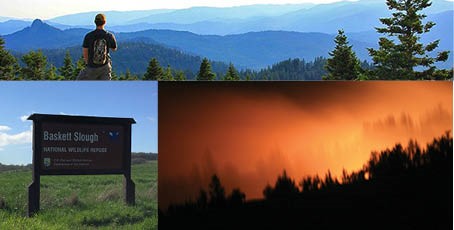 By Ken McCall, Resource Director
Baskett Slough:
The US Fish and Wildlife Service recently asked for comments on hunting and fishing proposals for ten National Wildlife refuges across the states including a youth waterfowl hunt at Baskett Slough NWR west of Salem. The comment deadline was September 11, 2017, OHA noted the few site specific positive comments received prior to September 5 were outnumbered by negative comments on the proposed hunt and included a strong element of anti-hunter rhetoric. A quick turnaround comment request directed to OHA members somewhat local to the area resulted in more than doubling the number of comments. The new comments specific to Baskett Slough NWR were heavily in favor of the youth hunt proposal. With negative comments going as far as demanding all hunters be banned from our public lands, your positive comments spoke to the safe, ethical, positive and responsible ways to introduce youth to our hunting heritage and responsible wildlife management. Thank You members for your comments. OHA also submitted a letter in support from our state president. A decision is pending.
Cascade-Siskiyou National Monument:
The January 2107 expansion of the Cascade Siskiyou National Monument has come under reconsideration by the current administration as part of the national monument review process which ended in late August. Interior secretary Zinke recommended a reduction in size with no facts related to any specific proposal regarding size or management changes. Any action to scale back national monuments will likely be met with challenges in the courts and congress. The State of Oregon is among the list of entities considering legal actions.
OHA is following the issue and will be involved in the process.
2017 Wildfires:
2017 has brought another intense fire season to Oregon and the Western US. The largest single fire in Oregon is Chetco Bar at about 180,000 acres to date. Part of the burn overlaps the Biscuit fire, a half-million acres blaze from 2002. Our land managers are looking for ways to reduce the size and severity of fires through management activities like prescribed burns, clearing thick fuels and thinning dense stands of trees. Our politicians have failed for years to avoid robbing the land managers of critical budgets to manage the landscape. Meanwhile environmental groups block any timber related actions.  The reality of these mega-burns is not all the vegetation is consumed, typically leaving a patchwork of green and blacked lands with returning forage created by default. Now is our time to weigh in on the landscape rehabilitation and wildlife habitat projects that follow the burns, pressure the politicians for a real financial fix and bring a voice of balance to the table.